Day 1: A Foundation of Vigilance and Situational Awareness
The journey commences with a focus on establishing a strong foundation of personal security through situational awareness. Participants engage in interactive discussions and exercises to cultivate an instinctive ability to assess surroundings, identify potential threats, and make informed decisions. The day is dedicated to awakening the power of awareness within participants, arming them with the tools to detect danger before it escalates.
Deciphering Threats: Navigating Potential Risks
Day one delves into a comprehensive exploration of different types of threats individuals might encounter. By delving into real-life scenarios, participants develop the capacity to differentiate between various threat levels, enabling them to respond effectively. This knowledge empowers them to make proactive choices, minimizing risks and enhancing overall personal safety.
Day 2: Mastery of Techniques and Unwavering Confidence
The second day focuses on mastering a range of physical self-defense techniques, fortified by a strong foundation of mental readiness. Skilled instructors lead participants through a series of techniques, including strikes, blocks, and holds, tailored to individual capabilities. Beyond the physical skills, participants emerge with newfound confidence in their ability to face challenges head-on.
Empowerment in Action: Strikes and Defense Strategies
Day two is dedicated to hands-on training, allowing participants to internalize and refine self-defense techniques. Participants learn to channel their inner strength into powerful strikes and precise defense maneuvers. By practicing these techniques, they cultivate muscle memory and enhance their self-assuredness, enabling them to respond effectively when the need arises.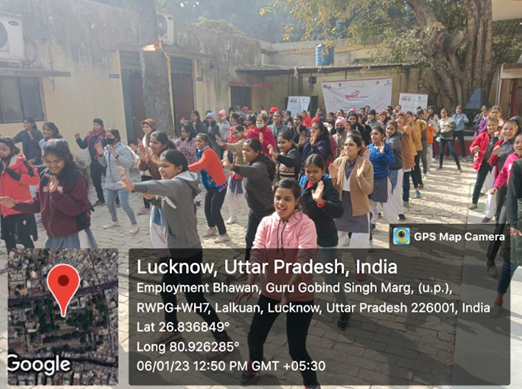 Day 3: Integration through Realistic Simulations
The final day bridges the gap between theory and practice, plunging participants into realistic simulations that mirror real-world threats. These simulations challenge participants to apply their acquired skills under pressure, fostering quick decision-making and self-confidence in high-stress scenarios.
Application of Skills: Practical Scenarios
Day three immerses participants in role-playing scenarios that replicate genuine threats. By actively engaging in these simulations, participants enhance their practical skills, as well as their psychological resilience. The amalgamation of physical techniques and mental preparedness equips them to handle even the most challenging situations with poise and assertiveness.
Conclusion: Empowered Beyond Boundaries
The three-day self-defense training program, conducted by SPEFL-SC at Government ITI Charbagh, embodies the ethos of self-empowerment. Through a fusion of mental vigilance and physical techniques, participants emerge as self-confident individuals equipped to navigate a world of uncertainties. As they venture into their communities, the impact of this training radiates outward, creating a ripple effect of safety, confidence, and empowerment for all.